About Me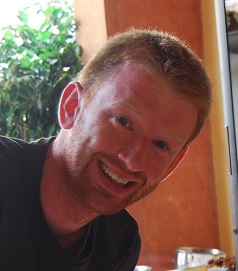 The Shelf Portrait Project.
Designer, Darragh Casey created the 'Shelf Portrait Project' as research for his MA project 'Shelving the Body' at Central St Martin's College of Art and Design, London. Frustrated with the commercial constraints of the design industry, Casey aimed to created furniture that focused on one individuality and one-offs rather than target audiences or mass production.
As well as subverting design traditions, the 'Shelf Portrait' is a photograph of various people physically suspended on shelves alongside objects that define their lives and personalities. Casey's initial Shelf Portraits were created around his own family – his grandmother, brothers and parents.
The Shelf Portrait Project was immediately recognised for its alternative design thinking and Casey was awarded a 'Future Makers' Grant from the Craft Council of Ireland and was also short listed for a 'Nova Award – The Lowe and Partners award for fresh creative talent'.
Casey's limited edition prints are regularly exhibited throughout London and Ireland and are purchased by private collectors including the University of the Arts Permanent Collection and the Head of Central St Martin's College, Mr Jeremy Till. Currently Casey welcomes private and commercial commissions and collaborations as he develops an archive of personalities, relationships and creative subversion.
2013
"Future Makers" Exhibition
NCAD, Dublin
(Crafts Council of Ireland)
"Thicker than Water" Exhibition
Byam Shaw, London
"Future Map 12" Exhibition
Central St Martin's, London
University archive
Central St Martin's, London
2012
Private Commission
Harley St Clinic, London
Designers Block Exhibition
London
Private Collection
Jeremy Till (Head of Central St Martins)
Shelf Portrait Commission
Megha Mittal
MA Graduate Show
Central St. Martin's, London
2011
"Design in a Context of Cultural Change"
Camper Installation, Spain
Vogue UK – Bond St Project
Van Cleef & Arpels, London
London Design Festival
University of the Arts, London
2009
Annual Exhibition
Royal Hibernian Academy, Dublin
Sculpture in Context
National Botanic Gardens Dublin